MixPhone7 is an AppMix Mixel
Character
Edit
MixPhone7 is an evil chunk of tech who wants to legitimately destroy the Mixels, one of his schemes (for example) was to make smaller versions of himself enough to both fit into any Mixel's hands & corrupt them to turn the consumers into "Twisted Mixels" while selling all those phones for $2.00, although the corruption part was thanks to the NixDroid Nanos, his next scheme will be in "MixPhone8?"
his appearance looks like the MixPhone7's that were sold in "The Twisted Effect" but much more life-size, he also has a rainbow-coloured line on his screen that turns into a soundwave whenever he speaks, he's also wearing a pair of "deal with it" glasses & has the capability of flight.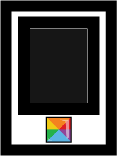 He is a new antagonist in the series, according to the Season 2 premiere episode The Twisted Effect, despite his product counterparts appearing.
he also ressurrected the Vampire Max from Attack of the Vampire!.
Ad blocker interference detected!
Wikia is a free-to-use site that makes money from advertising. We have a modified experience for viewers using ad blockers

Wikia is not accessible if you've made further modifications. Remove the custom ad blocker rule(s) and the page will load as expected.